I came to Europe having been to 26 countries before so arriving in Denmark put me at 27!
Also, let's be honest. The only reason I wanted to go to Copenhagen was because it is the bike capital of the world! But the first thing I did was find the hostel and a grocery store.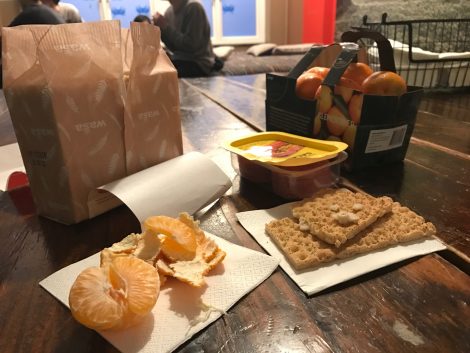 And the challenge of staying on budget begins! I knew I would want to ride a bike so that is what my fun money went towards in Copenhagen. Unfortunately, the weather didn't cooporate. But it is January so I didn't have high hopes that it would. It was below freezing so I dressed as warm as I could.
Next, I found my bike to rent.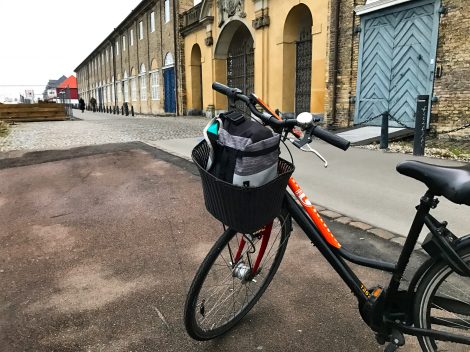 And took off. Probably a little too early in the morning. Because my fingers were frozen not too long after. But it was so fun to ride in a city built for bikes! So I didn't give up that easily. Once the wind picked up and it started snowing, I was a goner. I could hardly stay on the bike because of the strong winds and the wet snow made it hard to see anything. I'll admit, I did have to walk my bike part of the way. But only a little part…
With more snow in the forecast as well as dropping temperatures, I decided to return the bike and spend the rest of the day exploring on foot.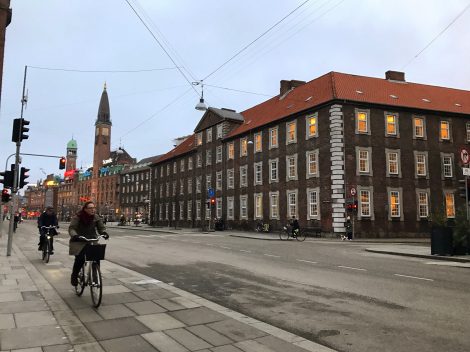 It just blew my mind that there were so many more cars than bikes. On the bigger roads, you would see cars, but on streets further in the city like the one above, cars would be few and far between. Even on days where it is frigid!! And look at how they're dressed. Like it's just another day on the bike. I don't know how they did it. Whenever I got cold, I would try to wait it out since it would be as soon as I walked outside. And when I couldn't stand it any more, I would quickly find a coffee shop.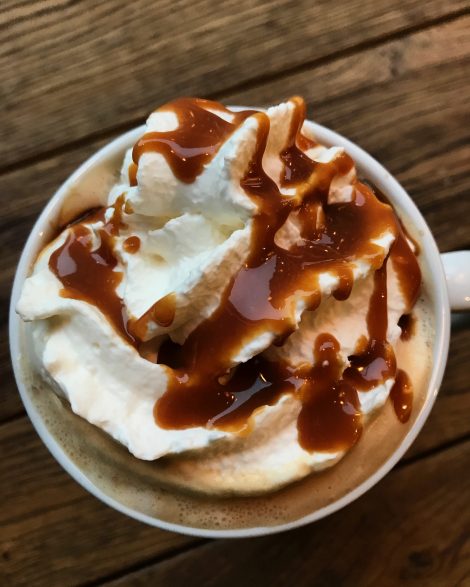 Copenhagen – even in the cold wet snow – was fun. I'd like to come back when it's warmer. I love the architecture here.
One of my favorite things about Atlanta is its eclectic neighborhoods. I kind of felt that from Copenhagen with its different colored buildings and textures. It was always fun to look at.
And of course the bikes. The bikes were my favorite too. It's just amazing that you see everyone riding – old people, young people, parents with kids, people carrying all sorts of stuff. You saw all kinds of people on all kinds of bikes.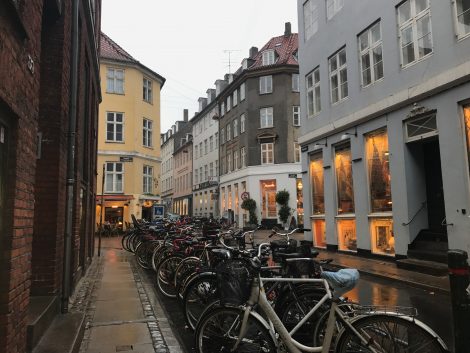 I think it's easy to see yourself riding here because you literally see every kind of person riding here. And they don't have fancy cycling gear or a fancy bike. Most are just wearing normal clothes. But when the infrastructure is so centered around bikes, it's easy to join in. I wasn't sure how everything worked, but I just followed groups around some of the bigger intersections until I learned how. It's so easy to pick up here.
They have separated lanes for cars, bikes and pedestrians. They have lights for bikes that turn yellow before they turn green so bikes can start rolling and can take off with the cars on green. The bike lanes are wide enough so that you can actually pass bikes in the bike lane. You never have to get in the same lanes as cars. It's amazing. I can't wait for Atlanta to catch up!