Cory and I got up well before the sun and were on our way to Peyto lake. Living in the city – sometimes I forget just how many stars there are because so many of them hide behind the city lights. But here, they seem to multiply – even from what I remember growing up in the Blue Ridge Mountains. The jet black sky was full of bright shining stars and even now, in the early morning hours, the snow capped mountains were shining along with the stars ever so subtly in the background.
As we made the drive up to Peyto Lake, there were absolutely no cars on the road. That is until we passed Bow Lake. We noticed a car pulled off on an overlook so Cory decided to stop too. As the car lights went off, our eyes adjusted and we began to see the lake reflecting the twinkling stars and mountains. Even in the dark it was beautiful. Cory snapped a quick (long exposure) picture and we were back on the road.
Once we got to Peyto Lake, Cory pulled the Toaster into a parking lot full of snow. As we were layering up, a family of 3 was setting off, each with their own preferred method of snow transportation. One had skies, another snowshoes and the last a snowboard. They set off into the darkness on the snow covered trail.
We weren't too far behind them. Now, fully bundled up, we set off to try and get to the overlook to see Peyto Lake before the sun was fully awake.
When we got there, Cory found the spot he wanted to shoot from and since I usually film him, I decided what my framing would be around him and set up my basecamp just out of frame. Then I quickly got my rig set up. For this trip I decided to go as light as possible and carried only one lens and shot off my rails so I could do everything handheld with my C100 instead of lugging a monopod up and down mountains.
Once my camera was up and running, I turned around to fully take in Peyto Lake in the first light. It was nothing short of spectacular.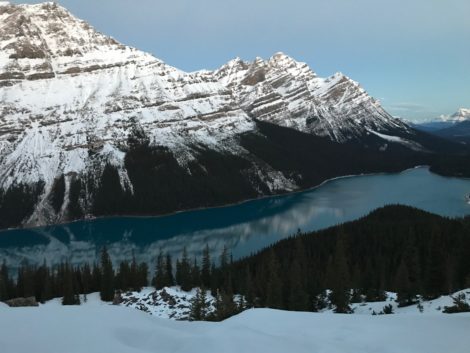 The mountains were so huge and I knew it was going to be a frustrating trip because it would be really difficult for me to capture just how big they are and to do them justice. But I'm never one to shy away from a challenge – which is one reason why I rented the wider 16-35 instead of my usual 24-70 setup. Even Cory frequently found himself pulling his ultrawide out of his bag.
The water here is so perfectly clear and blue. Peyto Lake was an exceptional shade of Turquoise this particular morning. I couldn't imagine a better first hike for this trip. The sun was just coming up over the mountains and Cory and I watched (and filmed and photographed) the light changing while the clouds danced around in the sky.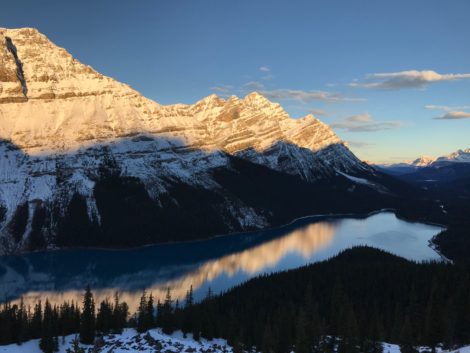 Eventually Cory finished his long exposures but not before I snagged a few photos of him.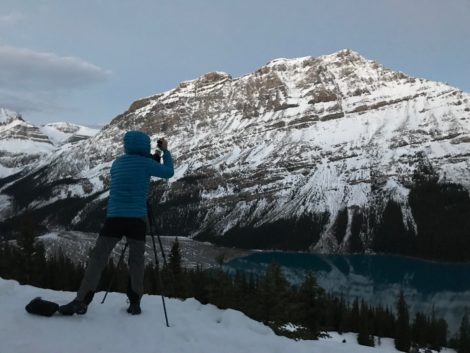 Before packing up, he wanted to get what he called a "cheesy kissing picture" before we left. He set up his camera on the tripod while I stood in for framing purposes and then he set up his iphone on his gorillapod to record the awkwardness. I thought nothing of this because our awkwardness is one of our favorite qualities about each other. So it was no surprise to me that he wanted to record it so we could laugh about it later.
Turns out however, he was just setting me up so that he could ask me to marry him.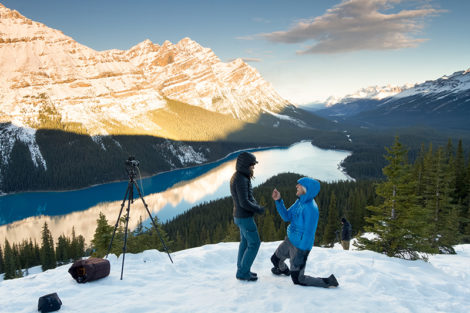 I said yes! And being the smooth guy that he is, he not only got our engagement in a timelapse on his camera, but he also got it on video.
We tried to take a few engaged selfies but the light was now too bright coming over the mountains.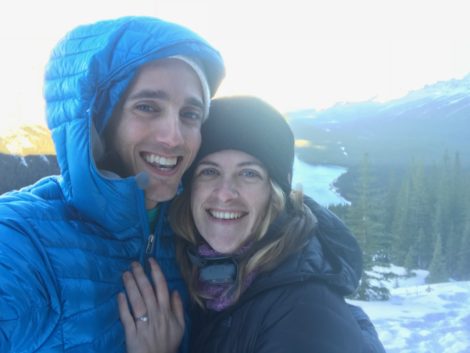 So we opted for a tree background. Apparently Cory forgot that the only thing that made these photos different from any other ones we've taken is the ring because he kept moving the camera so the ring was just out of frame. There was only one where the ring barely made it into frame – barely.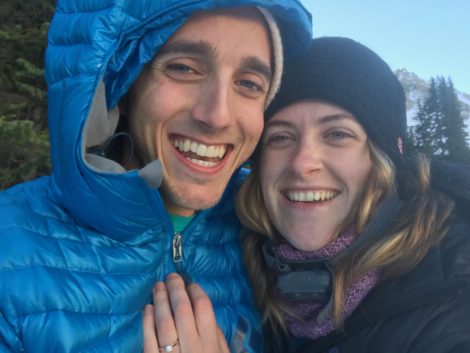 After way too many attempts, we decided it was time to move on. We hiked back on a different trail as an engaged couple.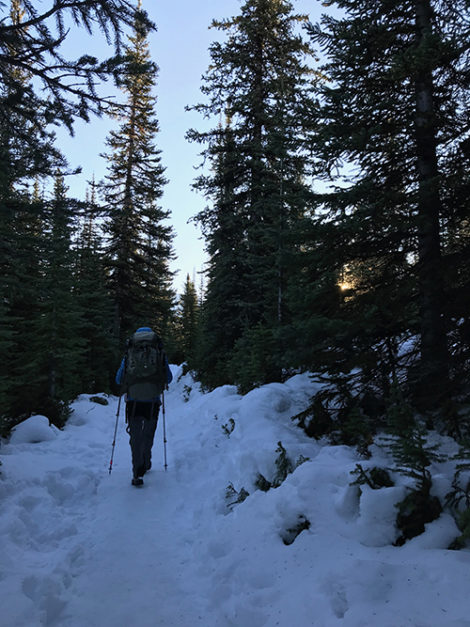 We drove a little further north to Waterfowl Lake where the sun was out in full force and I eventually had to shed a couple layers. The lake was just a short walk from the parking lot. The river feeding into the lake had already shrunk down a lot so we walked along the edges of the riverbed to the shore of the lake.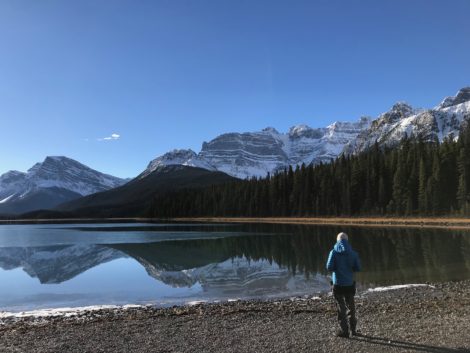 The trees here are amazing. Cory says they smell so good but between my bloody nose from the cold/altitude and my head cold, I had no chance of smelling them. I finally accepted the fact that I just had to take Cory's word and miss out on one of my favorite smells: Christmas trees.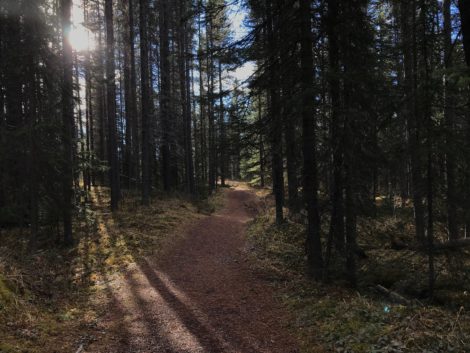 After some quick exploring and grabbing a few more shots, we headed back to the car, checked the map and decided to make our way back down to Bow Lake.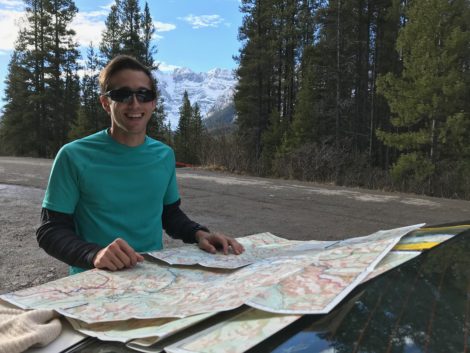 Driving around here never gets old – especially with my favorite driver! The views out the window weren't too bad either.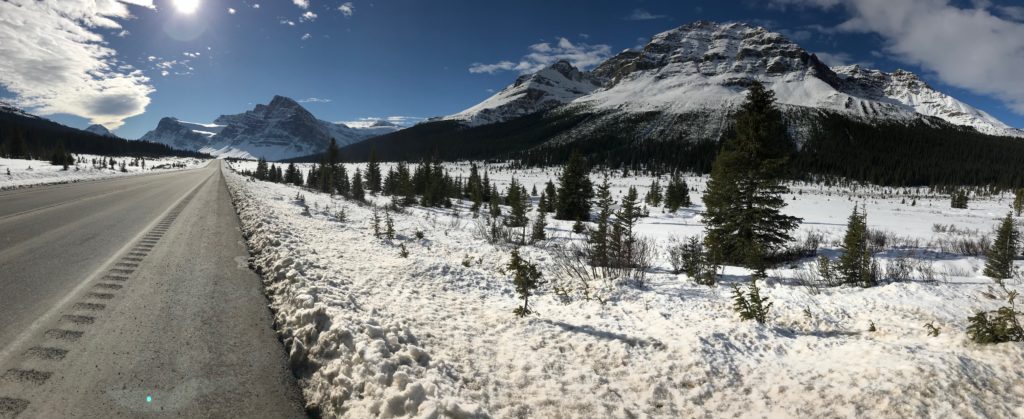 Once we pulled into the parking lot at Bow Lake, we fixed our lunch: peanut butter sandwiches with a thermos of coffee. Our first lunch as an engaged couple!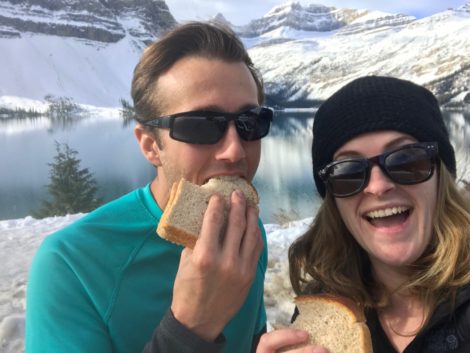 The parking lot is literally right at the lake so there were a number of people there but we made our way down a small but steep and a bit slippery trail to the shore of the lake. There were just a couple people who ventured down there. A little effort does go a long way in thinning out the crowds.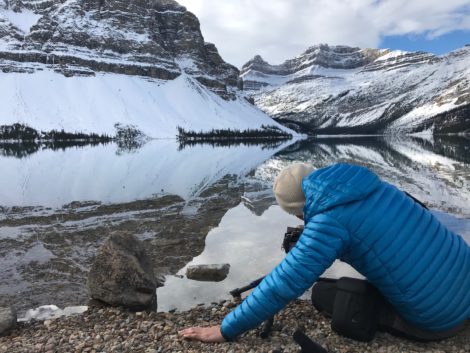 The water – I'm not sure I've seen anything like it. It's perfect for reflections. It's mind blowing.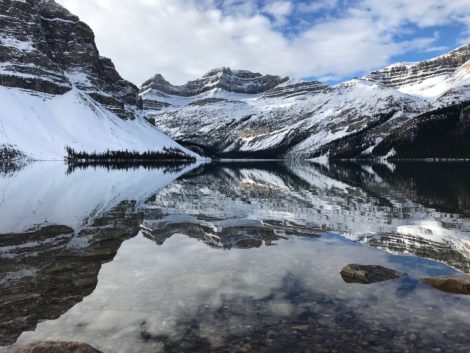 We took advantage of the evenly lit and gorgeous backdrop with our full stomachs and attempted some newly engaged selfies. They were hit and miss – per usual.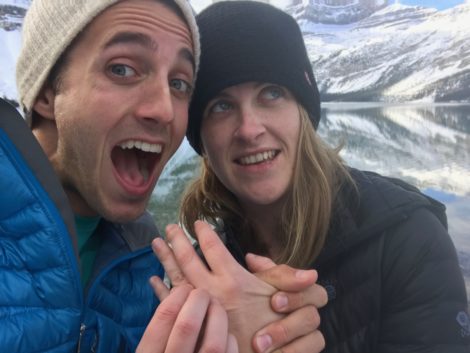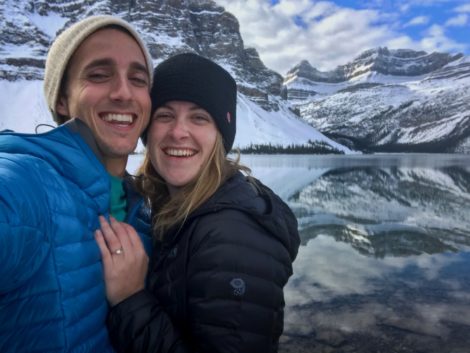 Next on the agenda was Emerald Lake. Because it is super close to the parking lot (which also had a couple tour busses), there were quite a few people exploring the edges of the lake here as well which never bodes well for Cory.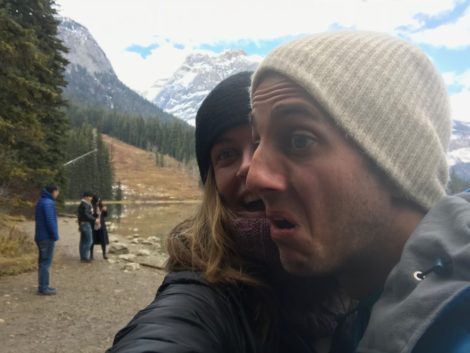 It's a fun walk along the shore but the best vantage point is basically the first angle you see as you walk out of the parking lot so it's a bit anticlimactic. But again – the water. Those mountains. Who am I to complain?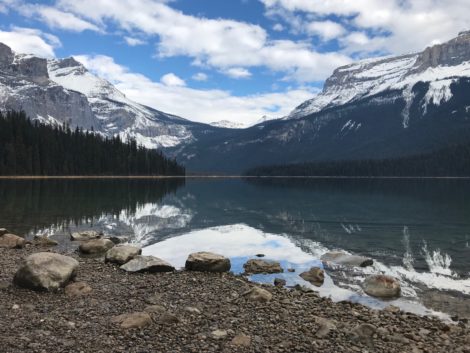 After Emerald Lake, we called it a day. On the road again – homebound.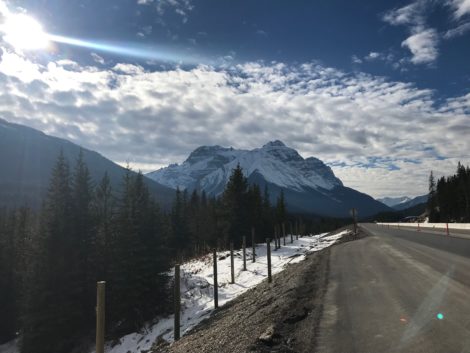 We headed home to Facetime family to tell them the exciting news. Afterwards, Cory cooked dinner and we turned in early.