Today, we had planned to drive all the way to Jasper and I was excited because Cory was so excited about the hikes he had chosen to do in the park. The snow storm had already moved in, so we chose a slower start in the morning just to make sure we didn't get on the road before the snow plows in our little toaster.
Around 7, we got layered up and were ready to head out to the car when Cory realized we never looked for the car keys from the night before. And so began the pocket check again. Then the bag check. The car was unlocked so we scoured it again both high and low. Then we assumed the worse. They might have gotten dropped on the way in last night – before the snow fall.
Cory was getting super frustrated so he went inside to check everything one more time. I stayed outside and kicked the snow around to see if they would turn up on the path back to the cabin. Nothing. So I go inside confused because I know they have to be here somewhere. I walk in to find Cory just sitting on the sofa. I guess he had given up on life so I knew I probably shouldn't try and lighten the mood too much.
Instead I asked where he was the last time he remembered physically holding the keys last night. He began talking about how he knew he had them and he vaguely remembered putting them on top of the car but couldn't remember if that was when we got home or at another point in the day. I knew he hadn't put them on the roof yesterday at our other stops so we walk out to the car and sure enough, there was a bump in the snow on top of the car. And there were the keys. Once again, we didn't look high enough.
So we finally packed up and headed out around 8:30 once we dusted off the Toaster.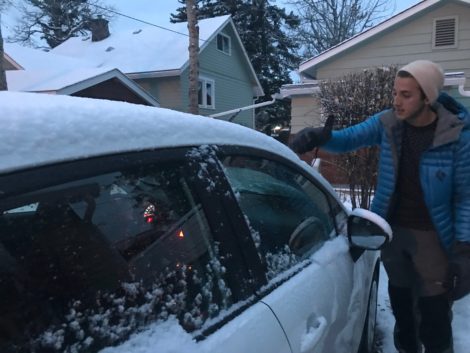 As we pulled out onto the main highway, the roads seemed ok. They had been plowed and we didn't have any trouble driving so we enjoyed the views we saw along the way even though we had gotten a late start.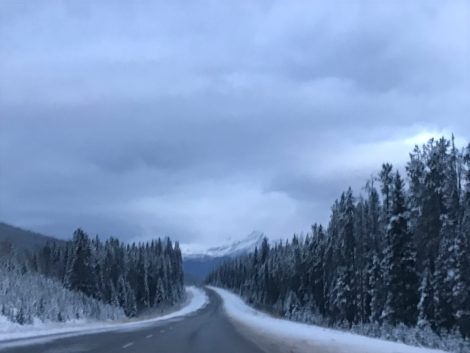 Cory had a business call he had to make so we decided to swing by Lake Louise again because a) we knew he would have signal and b) were weren't too far away and were curious to see what it looked like after a fresh snowfall.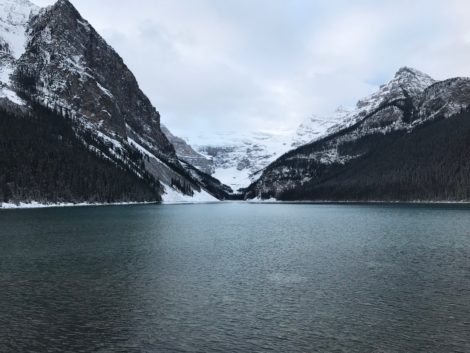 After a quick picture and a phone call, we jumped back in the Toaster and took off. Nothing but blue skies ahead.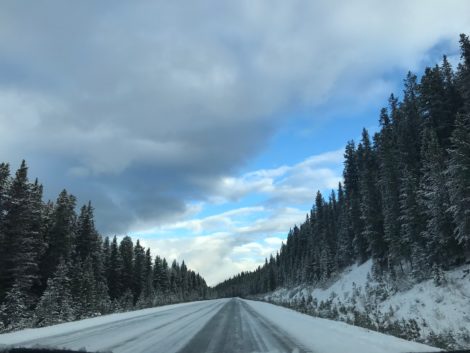 It was so beautiful, we kept pulling over to take pictures – sometimes hopping out of the car. But sometimes, we just snapped them from the car.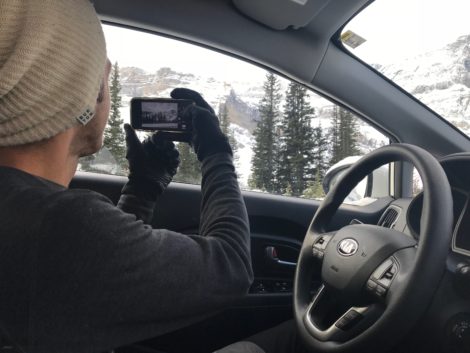 It started clouding up and the light changed. We were not complaining because it was so gorgeous.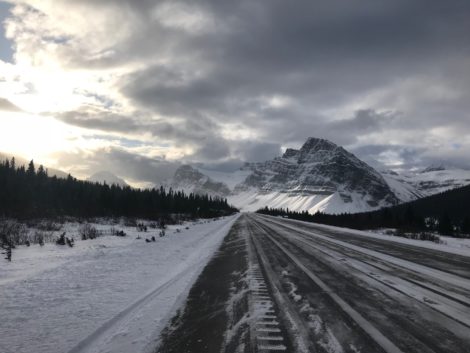 But then it started clouding up like snow storm clouding up. It was still pretty but in the Toaster, I start to get a little tense. I tried to play it cool because I assumed I was overly anxious just because I wasn't super experienced driving on snow and ice. Also, every time I looked over at Cory, he seemed to be fine. And then we turned off onto the road that led to Jasper. We assumed that it would be as clear as the other highway to Banff. But we were wrong.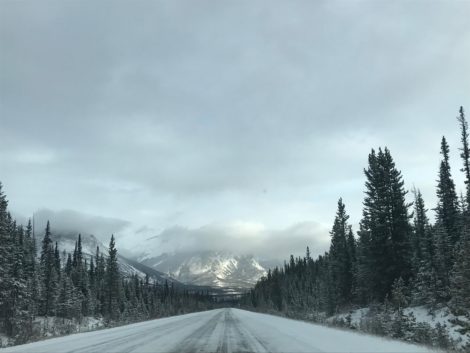 Nope. The Ice Fields Parkway was not plowed or salted or anything. I don't say anything but I can see Cory seems a little concerned. But the Toaster keeps chugging along.
Then it starts to get worse. To the point where it's hard to even see the road. I feel like I'm in Fargo. Everything is white. We can't even see the mountains any more.
Finally, Cory voices his concern. Not only are we driving the least equipped car for these roads, but we are getting low on gas. And the only gas station we've seen was closed – we assumed for winter by the looks of it. And it's another 200 and something kilometers to the next gas station in Jasper. Both of us are getting more and more tense.
But I tell Cory that at least there's cars out so it's not like it would be hours before we would see another car. Plus we were prepared to go hiking so worse case scenario, we could bundle up and he could go hike to get help and I'd stay with the car and take care of that thermos of coffee. He thought I was kidding about guarding the coffee I mean car. But I was willing to do it.
Plus at this point, we had passed the point of no return. We definitely didn't have enough gas to make it back to Banff so we didn't really have a choice except to keep heading towards Jasper.
Meanwhile, we are going up hill, down hill, and around blind curves on roads we can't see in the Brave Little Toaster that doesn't have four wheel drive or snow tires. We are also going about 15 miles an hour. Because ice. Snow. No traction. Fuel preservation.
We turn a corner and there is a snow plow perpendicular in the road not moving. Cory slows down but we are going downhill. On ice. In the Toaster. The plow doesn't move. The toaster starts sliding. Cory veers off so a small pile of snow on the side of the road stops us (we are only going like 5 miles an hour at this point).
But our prayers have been answered! We wait hoping to follow the snow plow down the mountain. He moves a little to make room for us and waves us around. So Cory pulls up beside him and alas, he is going the opposite direction. So Cory goes back to 10 and 2 with what looks like every muscle in his body in use because he's so tense.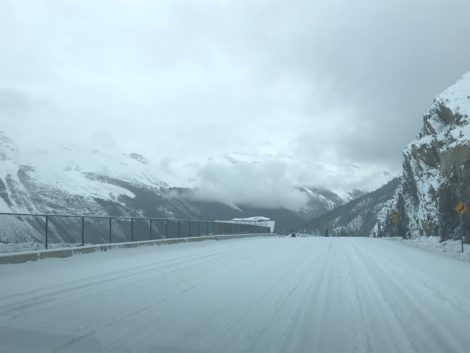 Finally, we see signs for Jasper. We pull into the first gas station we see and fill up. Cory had a hard time turning the wheels. Turns out, we had collected a lot of ice – so much that it was blocking the tires from turning.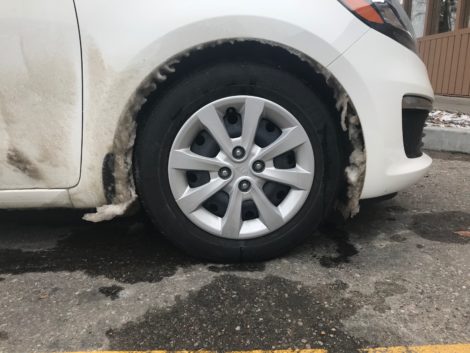 Finally, finally! we both take a deep breath. We notice a diner called "Bright Spot" attached to the gas station. Cory had brought a freeze dried camping meal for us to eat for lunch but when I looked at him, he didn't even have to finish asking – I said yes. And we headed into the Bright Spot.
The 2ish hour drive had turned into four and a half hours. But we made it. Barely. (Well more than barely but being a bit dramatic works here)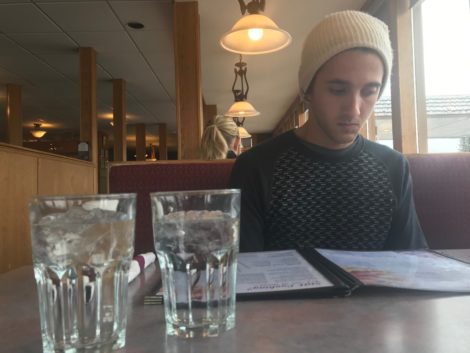 After we got some food in our stomachs and were able to relax a little, we felt much better.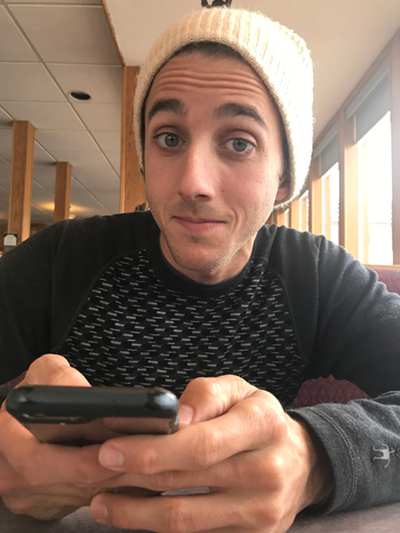 So we headed towards Athabasca Falls. This was an awkward one to shoot – even Cory had problems finding angles he liked. There were mostly bridges you had to stay on so it was pretty confining. Cory did find a vantage point he liked but for the first time he couldn't get to it because he would have had to stand shin deep in ice water. So he passed and found another spot to shoot from.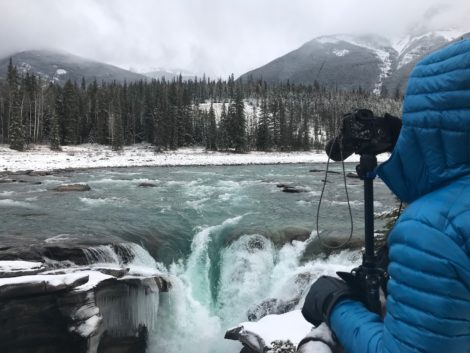 Let's just go ahead and talk one more time about how clear and blue this water is!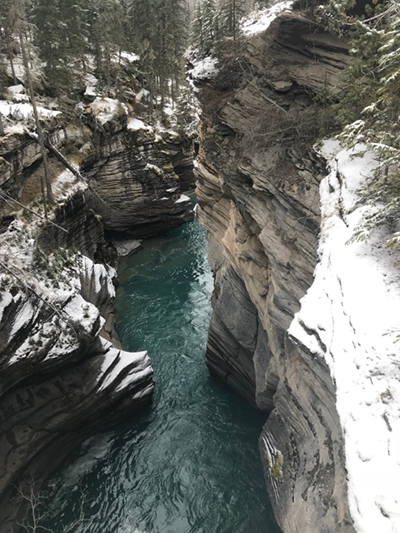 I also really loved the snow building up on the trees. It made me ready for Christmas and I frequently sang "I'm dreaming of a white Christmas." Cory was a good sport. Next we headed to Sunwapta Falls a little further down the road.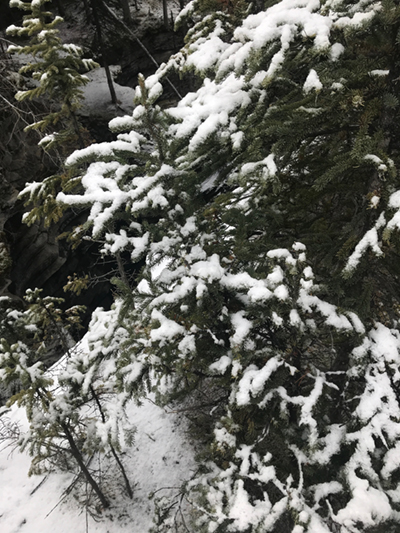 I loved this one because of the symmetry. (Yes I'm a Wes Anderson fan)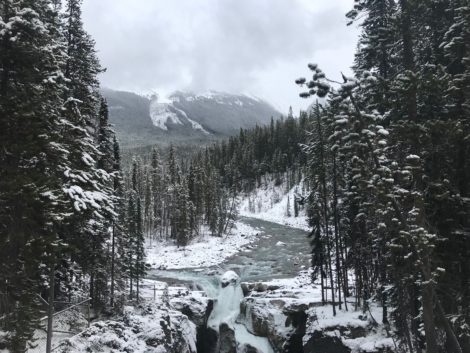 We didn't stay long here because we were pretty beat from the stressful drive up. Even my lens was feeling it because it stopped working. So I switched from my f/2.8 to Cory's f/4 and made do.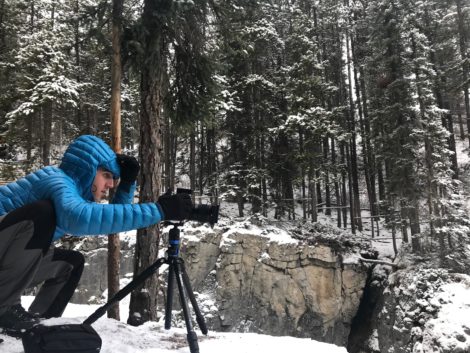 When we got back to the car, Cory said we were done. The third hike he had planned on doing was an 8 mile hike so he heard no complaints from me. We wanted to make it back over to the other side of the mountain and onto the main highway before nightfall. So Cory took the wheel and put me in charge of the coffee. I forgot to tell him it was Katie hot (I like my coffee hotter than Cory does).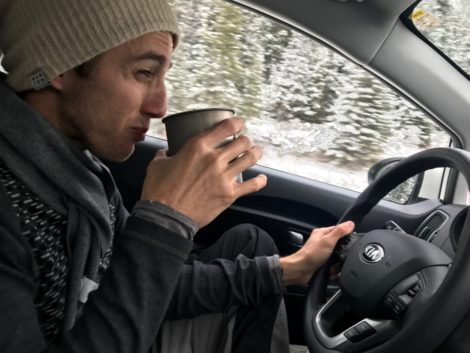 The drive back was better in some regards: We had gas. We knew what we had to drive through. The drive back was worse in some regards: We knew what we had to drive through. The roads were worse. We were racing a sun we hadn't seen all day. So it was still stressful.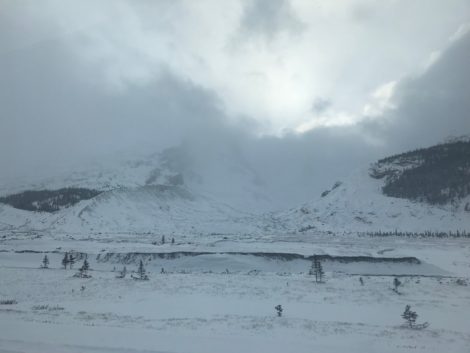 At some points we literally could see nothing. Cory couldn't even tell where the road was.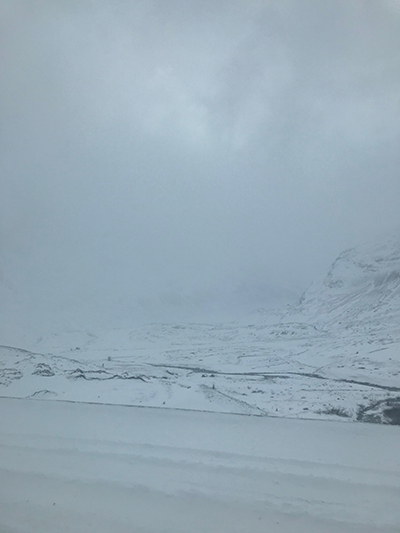 We did see our first wildlife sighting though! We saw this guy hanging out on the side of the road. Because I was so excited, I couldn't get my words out so I just made noises as I rolled down the window and leaned basically all the way out (we are only going like 10 mph remember) to snap a photo. Cory knew what I meant though.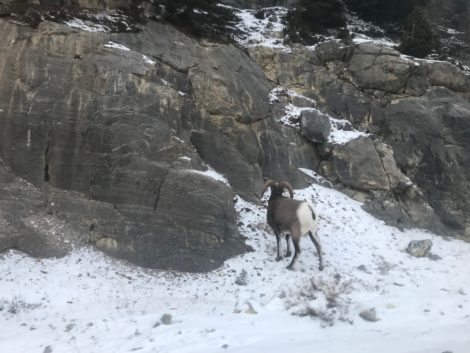 We got to an overlook that Cory couldn't pass up. I was satisfied with my iphone picture from the car so I did not get out.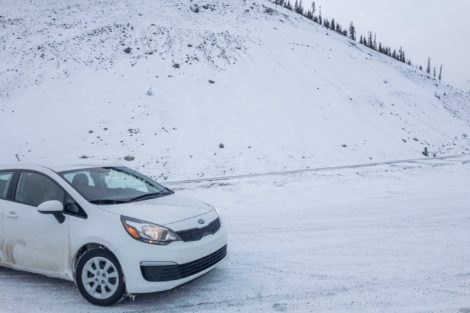 Eventually, we were climbing the last climb in the Brave Little Toaster. We were excited to be behind a jeep because we knew they'd be able to help if anything should happen. Also, we were driving in their tire tracks.
Unfortunately they became too careful and were going too slow in their four wheel drive. We however, needed momentum because if we stopped, the Toaster would not be able to start uphill. So Cory did the unthinkable. Our little Kia Rio Toaster passed a Jeep! I mean it took like 5 minutes to get in front because we were both going so slow but we did it! And we made it over the crest! And down we went.
Eventually, we did make it home. After a total of almost 9 hours of drive time on the road today vs the 4 we were expecting, we crashed and burned and called it an early night – after making sure we had the keys of course.