Today, we couldn't leave early because it was just too cold. Plus Cory's call had gotten rescheduled for today around lunch so we figured on hanging around the cabin until then. Plus, to be honest, we were starting to get on each other's nerves a bit. We'll just blame it on cabin fever (and the fact that he slept in while I had gotten up 2 hours before him and I was ready to do something by the time he rolled out of bed didn't help either).
We needed a couple things from the grocery store so I decided to go ahead and get them alone because I had to get out of the house and I could tell Cory needed a break from me (In his defense I'm a super Chatty Cathy in the morning because there's just so much to talk about – especially when you've given me two solid hours to myself to think of so many things!).
I bundled up and headed out to take the long way to the grocery store. Which is harder than you would think because it's just a 5 minute walk, if that because Banff is such a small town.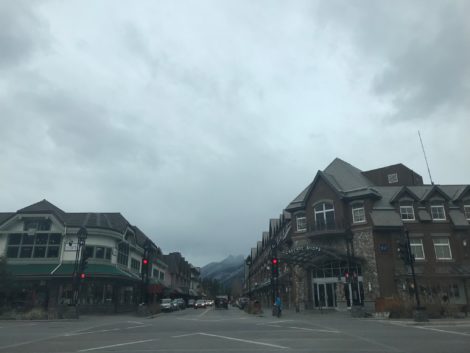 I'm pretty sure I walked every row in the small grocery store – a habit I had when I lived overseas. You can tell a lot about a country by how and what they sell in grocery stores. On the way back, I took a different scenic route, window shopping along the main street. I slowly passed by or stopped and looked, scouting out the best places to get stickers and magnets to minimize shopping later in the cold. I also noted a couple local coffee shops which also are important things to remember.
Needless to say, by the time I got back, we were both happier and ready for our next adventure: Johnston Canyon.
Yes it's a repeat. But the roads weren't ideal yesterday and we were over driving on sheets of ice. We decided to stick closer to Banff where the roads were better and go check out the upper falls at Johnston Canyon since we didn't have time the previous trip. Plus, snow changes the look of everything so it would be like going to a new place – kind of.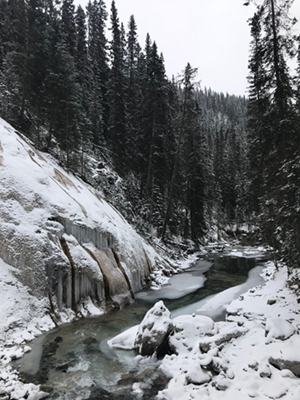 The forests are absolutely gorgeous. There is nothing like walking through the tall slender trees nestled in white blankets of snow. All I could think of was Robert Frost's words, "The woods are lovely dark and deep. But I have promises to keep and miles to go before I sleep."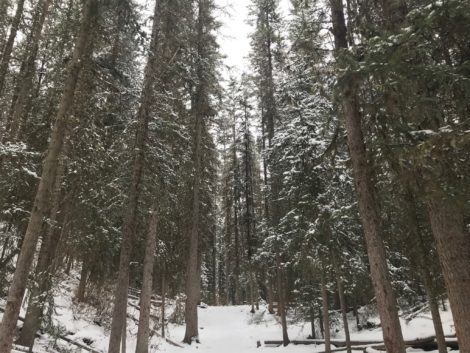 But on a serious note, when you hike with Cory, you do have miles to go before you sleep in woods that are lovely dark and deep.
It was really cool to see how much the canyon had changed with the snowfall. When we made it to the upper falls, we walked out onto an overlook platform which was a metal grated stand aka you can see through to the bottom.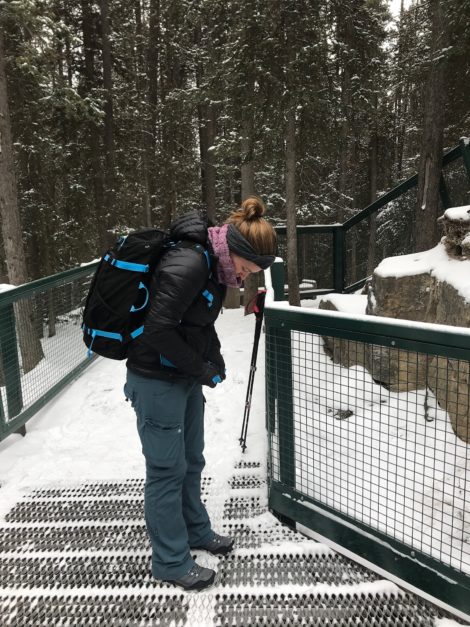 The waterfall was impressive but hard to show in a photo.
After Cory got a shot he was happy with, we headed back down towards the car but not before we took our traditional "national park hike" photo.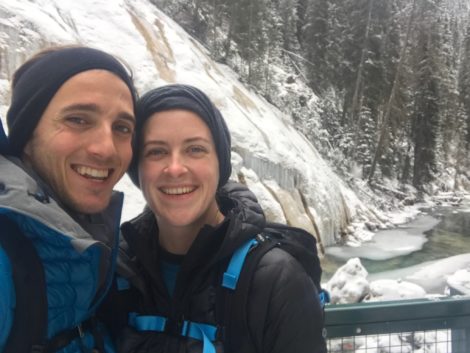 Unfortunately, I had gotten really cold at the top and was freezing as we started back down. On the way up the trail I had gotten so hot (I literally wore all my layers which apparently was too many) and had started sweating. Cory says if you sweat you die. And while I didn't come close to dying – or didn't feel like it anyway, I did get colder faster at the top just because I was sweaty. Because apparently you can be sweaty in below freezing temperatures.
By the time we headed back, I was freezing – including my fingers. So much so that at one point on the way down, we had to stop and I had to stick my fingers in Cory's armpits to warm them up because they were hurting so bad. Trail life is so glamorous – see posed photo below.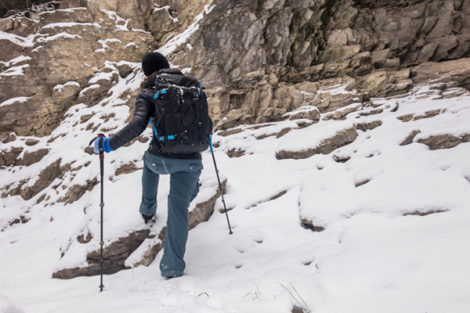 We made it back to the car with feelings in all our fingers and toes and with ample time to finish our to do list for the day: dinner out.
Normally, I don't like to eat out this much on a trip – especially in a tourist town like Banff where everything starts at a higher price. But based on this morning, I knew I couldn't spend the next 8 hours in the cabin waiting for bed time (it was early afternoon when we finished at Johnston Canyon) and have a repeat of this morning. So we went back to the house for a coffee break and then headed out to a Greek fast food restaurant.
We layered up and walked over to Shawarma. It was delicious. We both got the Greek version of a rice bowl.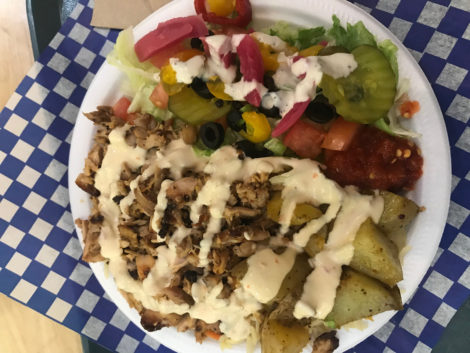 They also had 3 kinds of Baklava in their display case: Greek, pistachio and walnut. Walnut is what they have in Albania and pistachio is more Turkish I think. I had never had Greek but also assumed that since we weren't in Greece, that by Greek they meant it would be just a traditional style baklava.
Cory isn't very seasoned when it comes to Baklava and good baklava is really hard to find in the States so the fact that they had 3 kinds led me to believe it would be worth it to try all 3. I mean, Cory needed to try all three. My hopes were raised even more when the guy ate a piece as he was taking ours out. Even he couldn't resist the deliciousness that is baklava. And it didn't disappoint.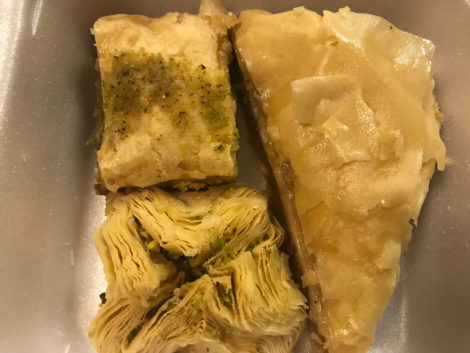 Cory ended up only eating one (he would never make it through New Years in Albania) but I managed to eat the rest. Once we were done with the baklava that we had gotten to go so we could eat it at the cabin and watch a movie, it was bed time! A successful night with little to no signs of cabin fever! We decided to quit while we were ahead and went to bed. We had one more full day in Banff to go.