In the morning, we decided it was way too cold to be too adventurous so we opted for a morning coffee outing to Evelyn's Coffee: "Banff's favorite coffee." We snagged some seats by the window and sipped hot coffees while Cory edited and caught up on work and I journaled and people watched.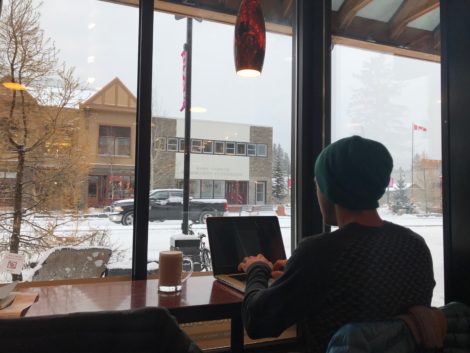 We figured the Toaster wasn't ready for the roads yet and wanted to give them a little more time to warm up too. But eventually, we did make our way to Vermillion Lakes which was literally a couple miles if that from Banff. (In case you haven't noticed, the colder it has gotten, the later our starts are, the shorter our hikes have become and the closer to Banff they are.) I think today it was -11 but we tried to keep our spirits high.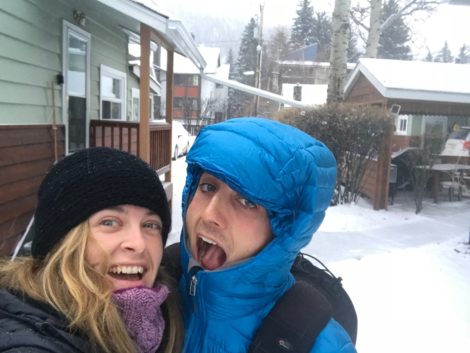 Cory noticed that some new lights appeared on the dashboard of the Toaster. Cory explained he was in full control now – the Toaster had given up and would not help him steer or keep traction (the only reason he was able to drive us safely to and from Jasper). Slowly, carefully, and cautiously, Cory continued to drive out to the lake and thankfully, there were no close calls. We got out, found a trail and then per usual, Cory made his own.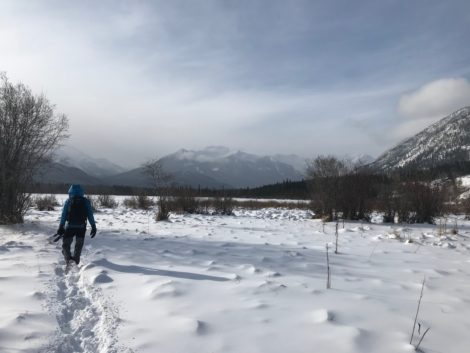 In knee deep snow…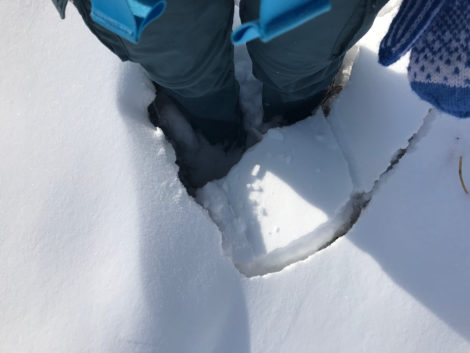 Again, the forests here never get old.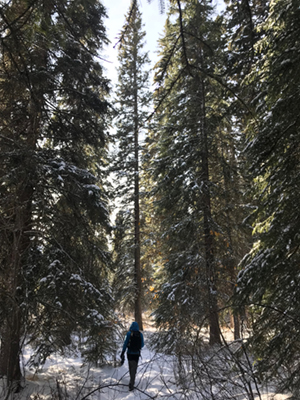 After walking through the beautiful woods, we came to the spot where Cory wanted to set up.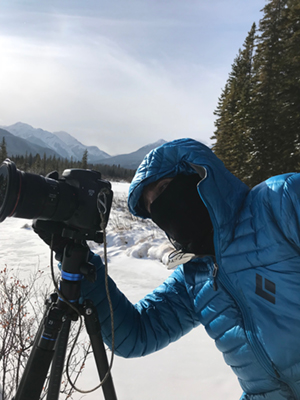 I unfortunately only had dead batteries so my camera was useless. After a few moments of self pity – even though it was my own fault – I gave it up and simply enjoyed the view. I've never seen a completely frozen and snow covered lake until I came to Canada in the fall.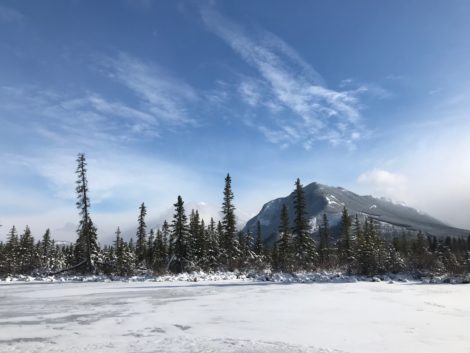 When Cory was finished, I look over and he's rolling around in the snow. Day 8 must be getting to him.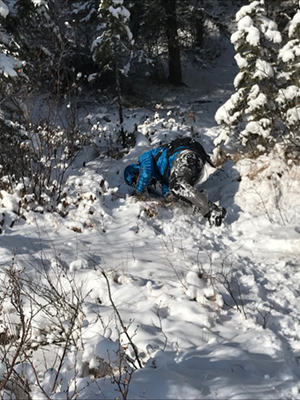 Then he asks if I can take some epic shots of him. Of course I oblige. Then I noticed that it was so cold, Cory had grown an ice ring around his face mask –  or maybe he was just literally smiling the entire time.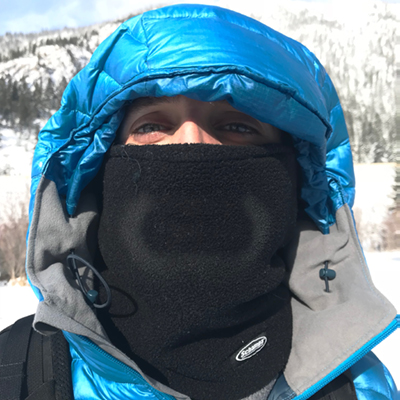 After I pointed this out to him, we headed back to the car and started our way back to town, going slow slow along the snowy road.
As we were slowing at the stop sign to turn onto the main road, I felt the car start sliding. I look at Cory and see that he is well aware of what is happening though neither of us say a word. As we slid in what felt like slow motion straight for the stop sign, the only thing going through my head was "nothing bigger than a quarter. Nothing bigger than a quarter." I knew better than to say it out loud though – especially since I can't drive in snow and was the one who declined the insurance waiver and would be responsible for any damage bigger than a quarter.
Cory somehow managed to slide around the stop sign, down a small – which in hindsight turned out to be a decent sized – embankment and then we kept going almost all the way up and back out onto the main road before the Toaster lost momentum (and I think the will to try) and we came to a stop.
There was no damage – bigger or smaller than a quarter. Cory is an amazing driver in cars not well equipped for less than ideal roads. He's a keeper!
Luckily, we were less than a mile from our cabin so there was no need to worry about being stranded. Cory sat in the car weighing our options and I got out just to make it more obvious to passers by that we were stuck. It worked! In less than 3 minutes, not 1 but 2 Canadians stopped to help. One even had a truck with a tow strap he could have used to pull us out with. But first, we (they) decided to push.
Originally, I was going to steer while the 3 guys pushed but when they talked about backing up and changing directions, I opted to watch because I didn't feel this was a good time to learn how to maneuver a car on snow. Instead, Cory hopped in the drivers seat and the other two pushed. After a couple tries, they pushed the Brave Little Toaster up and back onto the main road. After a few rounds of thank yous, everyone went their own way – including Cory and I who made a bee line for the cabin.
We were done for the day. And so was the Toaster. No more hiking today.
That evening, we needed to get out of the house so we went out to another coffee shop called "2nd Cup." It turned out to be a chain which I guess is why it was less cozy and way more busy than the other one. But then again, we also noticed there were a lot of people just now coming to town for the film festival. But more about that later.