Last weekend, a friend and I hiked the Yellow Mountain Trail. We had set this weekend aside for several months (only because it took us several months to find a weekend where we were both free) and yet about a week before the hike, we finally decided on a trail.
Neither of us have a lot of experience back country camping since we both started doing it this year. But we also both went to Banff this year in the winter and after that, we knew the cold is not something to fear once you've mastered the art of base layering.
We also are women who never shy away from a challenge or prefer to take the easy way so when we were researching trails, we knew the Yellow Mountain Trail would be perfect for us because there was a fire tower at the top which basically means you're guaranteed a view and according to all the reviews, this was the hardest trail in Western North Carolina.
So we made lists of what we had, what we could borrow and packed our bags and headed to the mountains in North Carolina (my favorite). We arrived at the trail head nervous about what we had gotten ourselves into but also excited. We felt confident because we had plenty of water since there was no water source on the trail, left an hour and a half buffer so we would have plenty of time to build a fire and set up camp in daylight and we had all the things required to survive a luxurious night on the trail.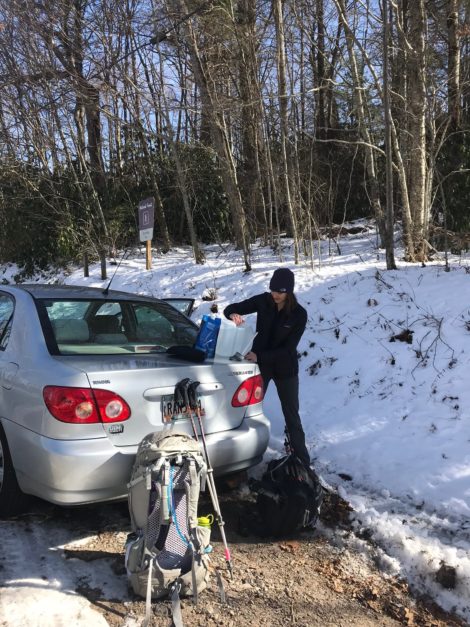 We took the obligatory selfie of our inaugural hike together and started the 5+ mile hike to the summit of Yellow Mountain.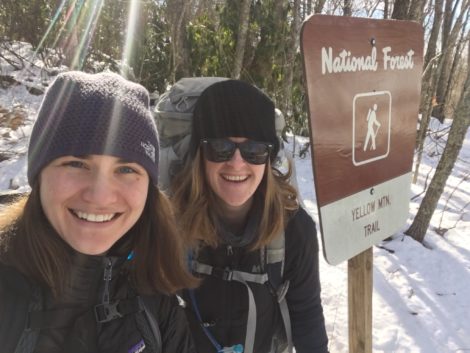 We knew it would get cold at night but we didn't think about the possibility of there being snow still on the ground. Thanks to our recent trips to Banff, we actually got excited about hiking in the snow and not so secretly hoped it would snow that night.
For most of the trail, we were hiking in ankle deep snow. I learned that my hiking boots are not in fact waterproof (but with mesh I never believed they were anyway). Thankfully, they are very water resistant and my socks only got damp from the melted snow.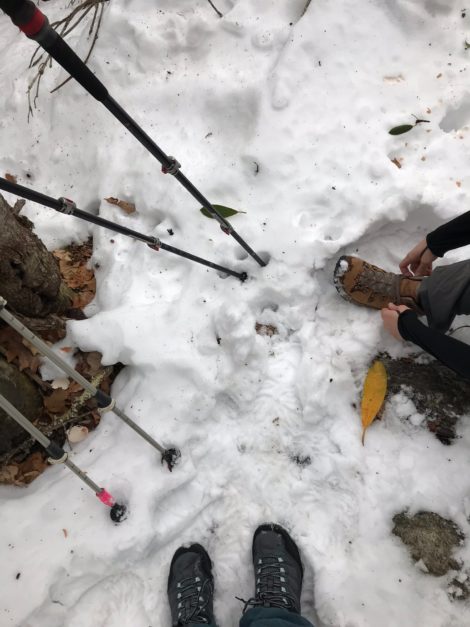 The hike was nice because Emily and I hike about the same speed and it seemed we would always want to stop for a water or snack break at the same time.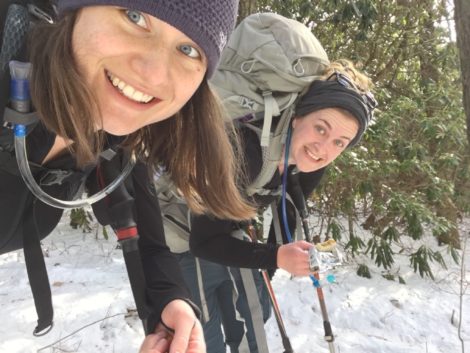 The trail was difficult. There were several fallen trees we had to climb over or around.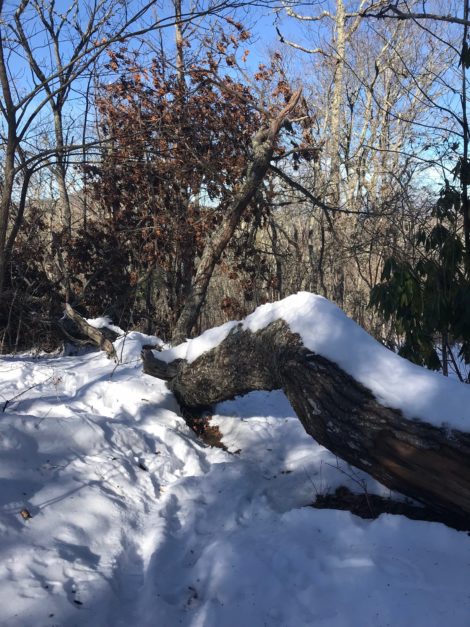 Plus technically we hiked over 2 mountains to get to the summit of Yellow Mountain. So this trail was no joke. But also, based on the reviews, we thought it would be a lot worse. Maybe preparing for the worst made this seem a little easier.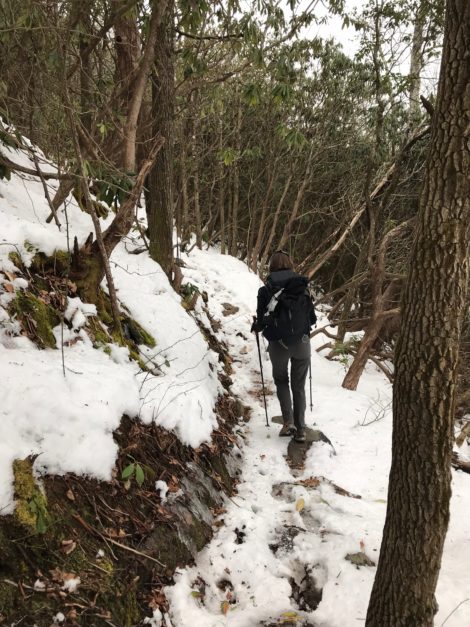 Either way, we made it to the summit about 5 hours later and the view was incredible.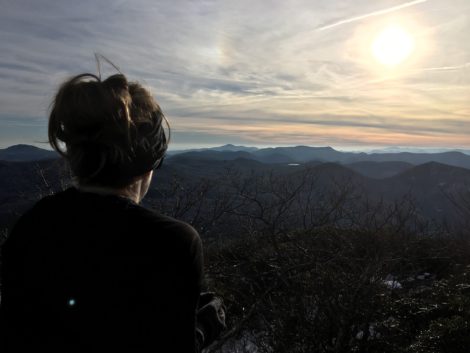 But the top of the fire tower was even better. On the ground, we were above the tree line already but in the tower, we were even higher and could see even further. Also I just love the blue ridge mountains.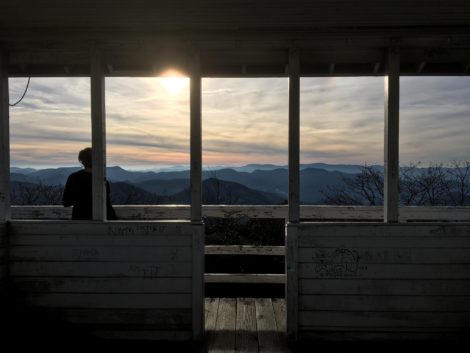 After taking in the views, we set to work building a fire. I gathered small twigs and sticks while Emily began sawing some larger limbs to use. Because she's a boss.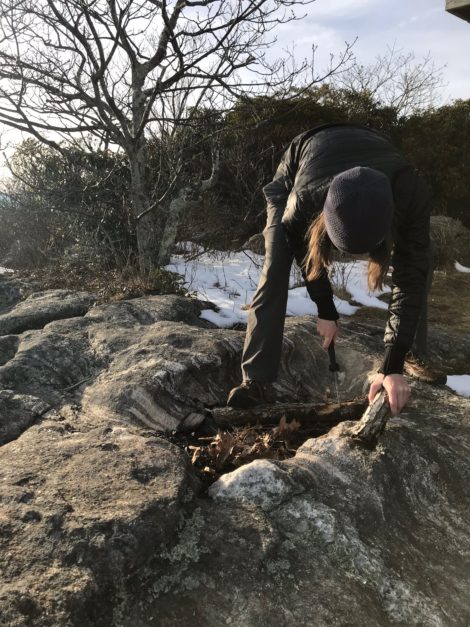 Eventually a group of guys came and were very surprised to see 2 ladies. Setting up camp. Alone.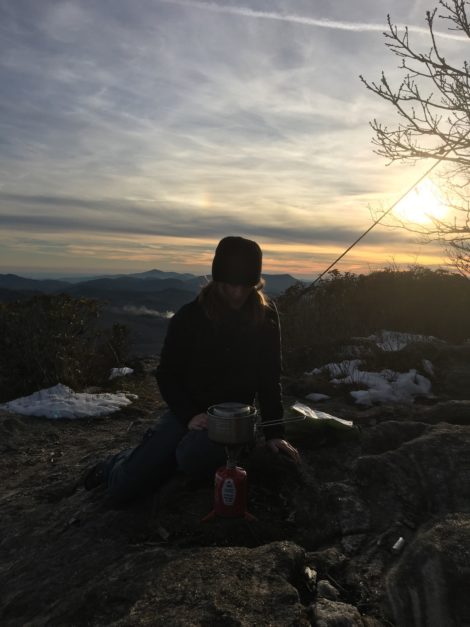 They were concerned we would get cold – we assured them our gear was rated for well below the temperatures we were expecting that night because we did in fact check the weather. They also offered us matches they brought. I politely declined saying we had both matches and a lighter. Eventually they ran out of things to be concerned about.
Had Emily and I been two guys camping, I'm 99.9% sure they would not have asked us any of those questions. But anyway, back to the trail.
They had come from the short two mile connector trail and were surprised that we had taken the longer one. We took the longer one because it's more challenging and more of an adventure. Plus we like to push boundaries – including our own. You never know how far you can go if you don't ever feel like quitting.
They stuck around for the sunset but we couldn't blame them. I mean – it was stunning.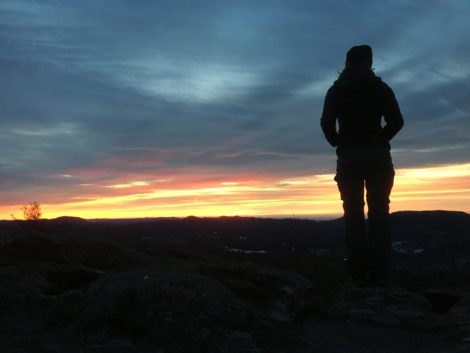 Eventually they left and by that time we had a nice fire going, base camp set up and dinner almost ready.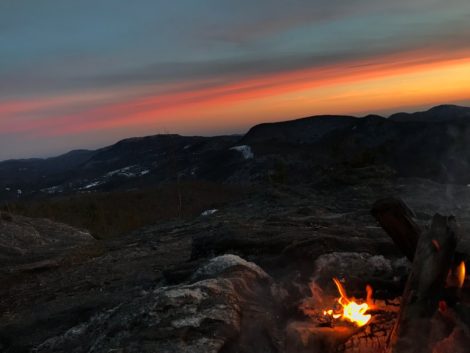 We accomplished this all on our own which was a great feeling. However, after dinner, halfway through our hot chocolate, Emily said "I'm debating whether or not I want to slowly enjoy this hot chocolate or chug it so I can get in bed." I voted for chugging it so we did and got in our sleeping bags to warm up and call it a night. It was 7pm. We have no shame.
The next morning, we got up to the most amazing sunrise.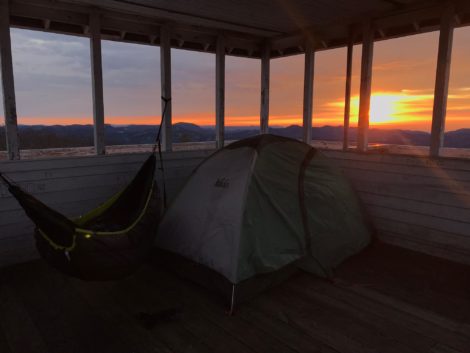 After taking way too many photos that didn't do it any justice, we started getting ready for breakfast. Oatmeal, scrambled eggs with jalapeños and coffee were on the menu.
We ate our hearty breakfast while enjoying the view.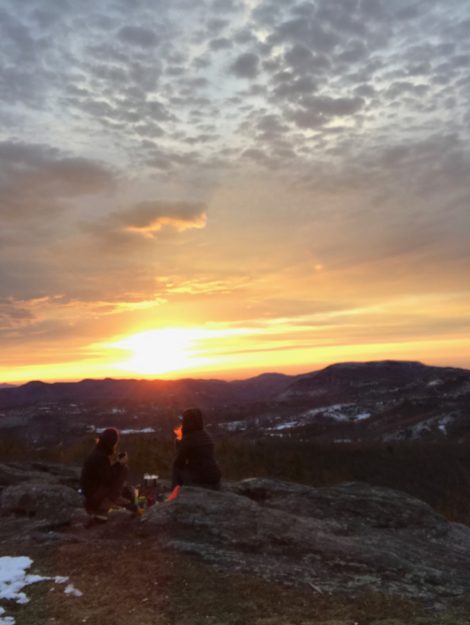 After we finished, we checked the weather one more time and decided we should head back sooner than later so we wouldn't have to do the whole return hike in the rain. We didn't mind doing some of it in the rain since we each had a set of dry clothes waiting for us in the car. After we packed up, we took one more look from the fire tower.
And one more look from the ground because it was so pretty.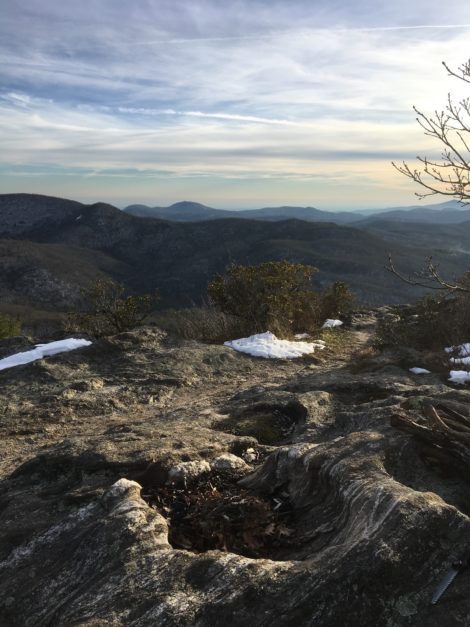 Then we got our packs on and got ready to head back down the mountain – and up and down a couple more on the way because that's how we roll.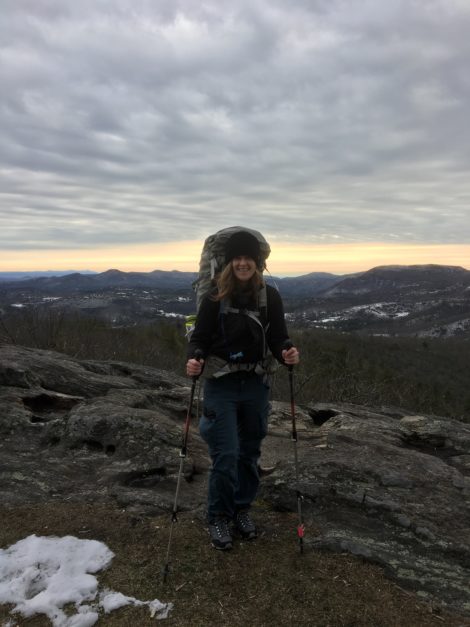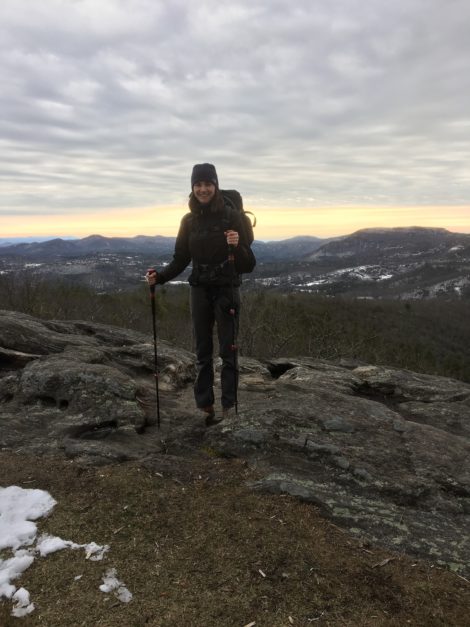 On the trail, we felt like we were making really good time. And then we felt like things didn't look so familiar. And then there was a massive tree down neither of us remembered. We hadn't seen our footprints for a while but we thought it was just because we had taken one of the many side loop trails we had passed on the way in. But since we didn't want to retrace too much, we backtracked a little until we figured out where we were.
Then we kept going in the right direction. We never saw any wildlife. Although we did see a lot of tracks in the snow. At one point, just after the halfway point, we saw Yellow Mountain – we could just barely make out the fire tower on top. We didn't realize we had hiked all that way.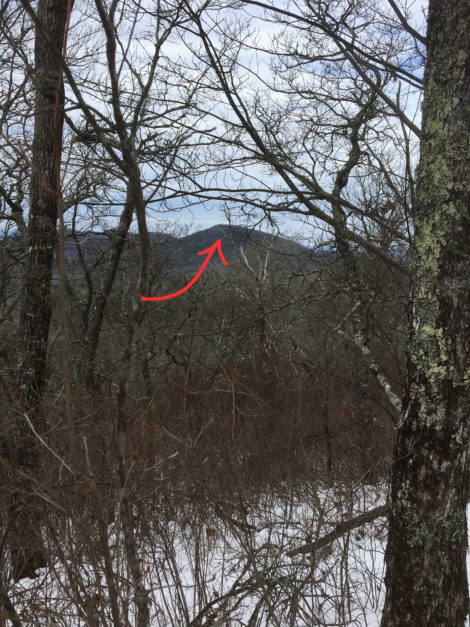 We hiked slow and steady but eventually, my hips became raw from my pack and it felt like I had a small fire burning there. I knew better than to take my pack off. So after we hiked the last uphill, we both decided to finish strong and try to make it the rest of the way without stopping. Probably an hour and a half or so later, we arrived back at the trailhead. We had done it! 11+ miles later, we had successfully hiked the hardest trail in Western North Carolina, experienced the amazing 360 degree views, built a fire, stayed warm in around freezing temperatures and cooked our meals!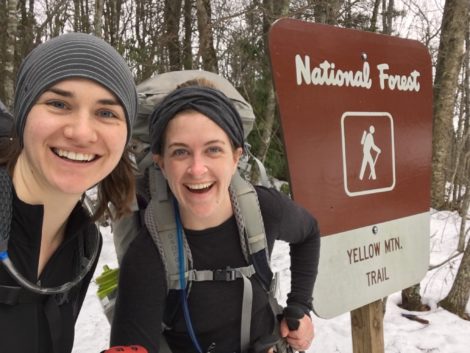 The photos don't do the real life views justice but also, I think hiking the 11+ miles versus the 2 mile trail makes the views even sweeter. This trail was hard. There's no doubt about that. But it wasn't nearly as difficult as the reviews had been. But every doubt, fear, muscle ache and step was worth it.
Emily and I have already scheduled another weekend trip but we aren't sure how we are going to top this one. Who am I kidding. We'll start by looking for the hardest hikes that people say are too challenging to do.