This morning started at 5am for me as I finished packing. (Also I hate being rushed at the start of a trip.) Cory showed up at 5:45 and we were on our way to the airport. We were flying Westjet (the first leg operated by Delta) and when we checked in online (because it's all about those boarding zones), it only let us check in per leg. So I paid for our checked bags directly with Westjet but it only said it was from Toronto to Calgary. As a Gate Agent said, "Never pay twice for something you already know you paid for once." So we got in line to sort it out with a Delta agent hoping that we wouldn't have to pay for each leg which would put a dent in our budget friendly trip right from the start.
Thankfully she worked her magic so that we didn't have to pay twice AND our bags would go from Atlanta to Calgary, as long as we transferred them over in Toronto. The other bonus was I paid for the bags in Canadian money (because Westjet is Canadian) so we each saved about $5 each vs if we had waited and paid Delta at the airport in US dollars which was the original plan!
I had high hopes for this travel day since things were off to such a great start.
My luck continued as it was a nearly full flight so they were looking for volunteers to check their carryons. I hate travelling with more than one bag but because we were taking our camping gear, I had to pack basically all my stuff for the week in my carryon. So in the hopes that something like this would happen, I made sure not to pack any of my camera gear in my suitcase and I ran up to the gate to have it checked all the way to Calgary! I felt SO much better!
This was my first time travelling with my new camera backpack. I wanted to test its size under the seat but why do that now when it could go in the overhead (because I was living that one carryon life in all its glory) leaving me with ALL the legroom like the average non camera gear toting traveller. It was glorious. Poor Cory didn't check his second bag because he had his medium format camera in there. I think he regretted it when he saw all my legroom and my freedom of having two hands free the rest of the trip! He managed to sleep his regrets away though.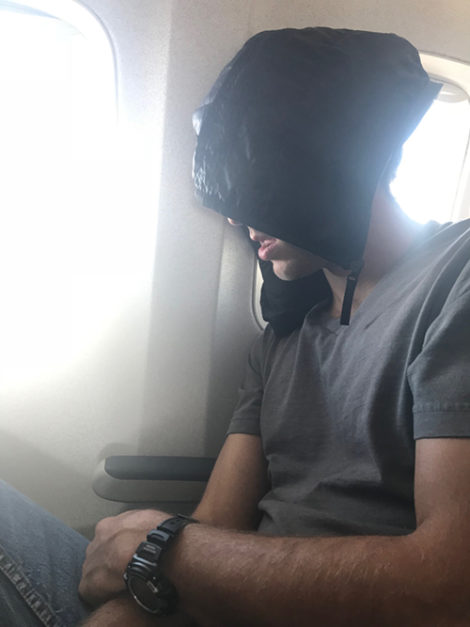 We made it to Toronto, went through customs, switched our bags over, went through security, found the gate and after what felt like a few minutes, we boarded the plane – onwards to Calgary.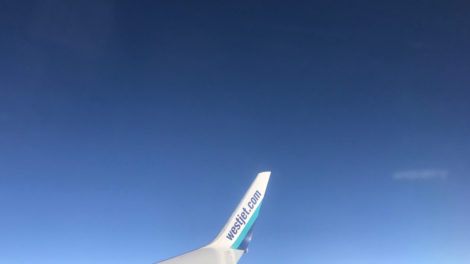 At Calgary, we got our bags and saw a Hertz car rental sign and started heading in that direction. I honestly didn't do much research for this trip – I assumed they had a shuttle. Turns out, for some reason when I rented the car online, the airport location didn't show up as an option. We ended up having to Uber for about $30 to a different location. I switched the return location for $35 so we could drop off the car at the airport. $5 dollars well worth not having the hassle of ubering back and schlepping bags around again.
We ended up with a Kia Rio, which Cory affectionately called the toaster for the remainder of the trip. I declined the damage waiver which meant we could do no harm to the little toaster bigger than a quarter. This actually came up quite frequently in conversation as it did not have 4 wheel drive or snow tires. But let's not get ahead of ourselves.
After loading in our bags, finally we were on the road and headed toward the mountains.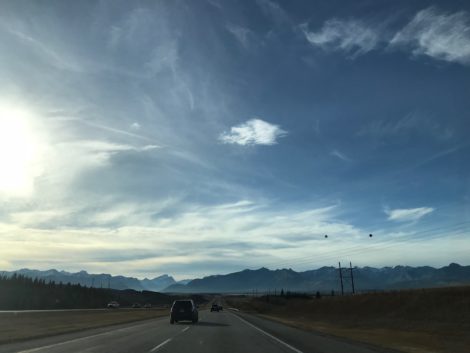 I opted to drive out of the city because – well there's a reason Cory doesn't live in the city. There is basically nothing between Calgary and Banff (an hour and a half drive) but we knew that we wanted to get out of the city as quick as possible because who knows what traffic would be like on a Friday evening. We didn't want to stick around to find out so we planned to drive to Canmore and find a place for food there.
The closer to Canmore we got, the quieter we became because we both knew that we were getting hangry and were taking preventative measures. Although I do have a rule when I travel that must be agreed upon – anything I say or do while I am hungry or exhausted or any combination of the two – you can't take personally or get upset about – at least until food and sleep have been provided. Then we can talk about it. The same is true for whoever is travelling with me. Cory was well aware of this rule.
As we got closer, Cory looked up a place to eat in Canmore because we knew it would be a disaster to go to the grocery store while starving. He found a burger place with great reviews so we headed over to a place called Crazy Weed. It was a super swanky restaurant that was not a burger place. In fact, there was only one burger on the rather pricy menu. We were so hungry and there were so few other options that we didn't care. We ordered an appetizer because they weren't serving dinner for another 30 minutes. Then we stuck around until we could get some real food.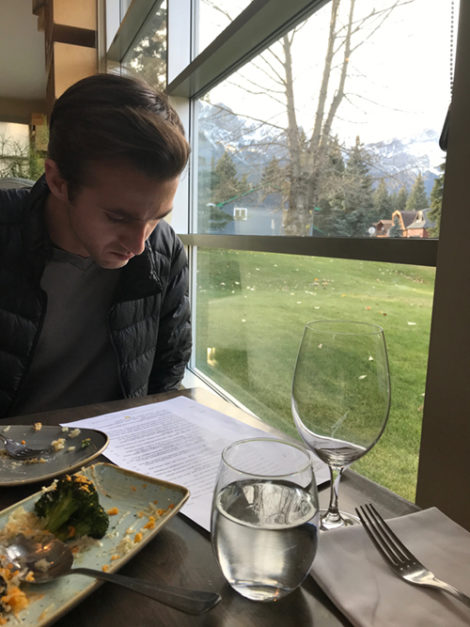 Once we got food in our stomachs, we were once again happy. And after trying not to gasp too much at the bill, we headed over to a grocery store. As I walked back to the car, it finally set in that we were here because I looked up and it hit me that these mountains, so enormous and majestic, are sitting here everyday, as a quiet backdrop to everything – including a simple grocery store parking lot.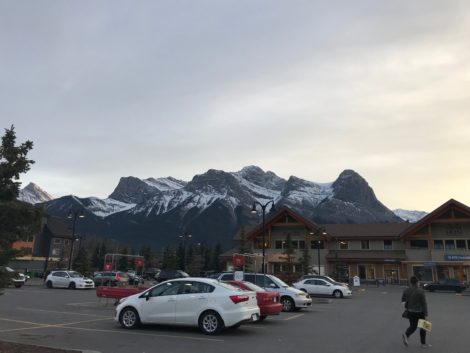 With groceries in tow, we hopped back into the Toaster with Cory taking the wheel.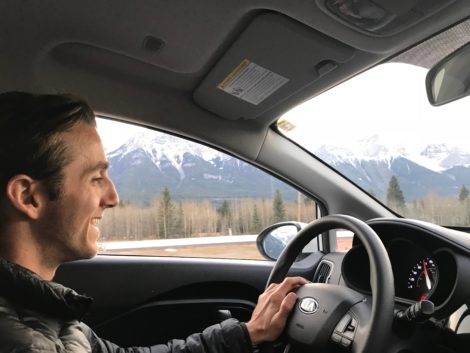 We finished the drive to Banff and found our home for the next week. We were staying at the Beaver Cabins in downtown.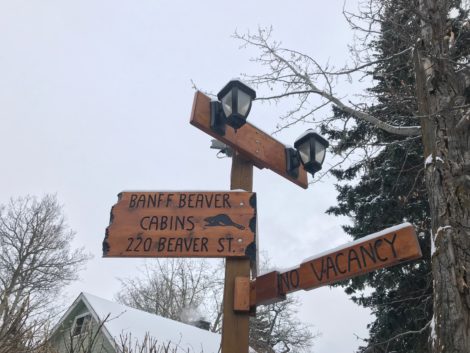 Once we unloaded the car and groceries and then unpacked and organized our stuff a bit, we decided to turn in early so we could make the most of the day 2 by hiking to catch first light in the morning.